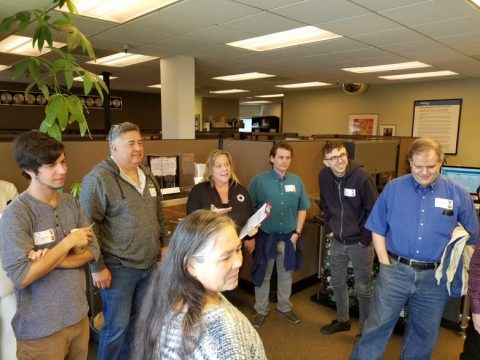 The Empire College IT Department learned the importance of backing up data, disaster recovery, teamwork and, of course, people skills during their recent field trip to DriveSavers in Novato. DriveSavers is a company that specializes in data recovery and forensics. DriveSavers restores and recovers data from inoperable hard drives, flash drives, tablets and cell phones.

Students were quite impressed with the museum of items DriveSavers has recovered data from. This includes melted computers from fires, a laptop recovered from a piranha filled river, and a giant hair ball collected from a cow's stomach, courtesy of Ripley's Believe It or Not.

Doreen Griffiths, the Senior Manager of Business Relations, led the tour and told students several stories involving famous clients. DriveSavers has recovered an episode from the Simpsons and scripts from Star Trek creator, Gene Roddenberry. This list of their Hall of Fame includes: Steve Kerr, Harrison Ford, Khloe Kardashian, Industrial Light and Magic, Metallica, Will Ferrell, The Rolling Stones, Johnny Depp and many, many more.

If one word can describe Drivesavers it would be "teamwork." There are many different departments from the call center, shipping and packaging, the "clean room "where hard drive duplication takes place, data recovery, forensics and mobile device recovery. All these departments work together as one big family to make the best experience possible for their customers. As Empire students toured various departments, management stressed collaboration and teamwork and how important it is for their business. All employees help and learn from each other, creating an effective and positive atmosphere in which few employees leave the company.

Doreen stressed how people skills and good communication are so vital for their employees. When they hire new employees, they may not choose someone who has all the required technical skills they are looking for. Instead, if someone makes an impression and connects during an interview, they could hire that person and teach them the additional technical skills they need. This is further proof for IT students how important their Career Transitions and Human Relations classes are.