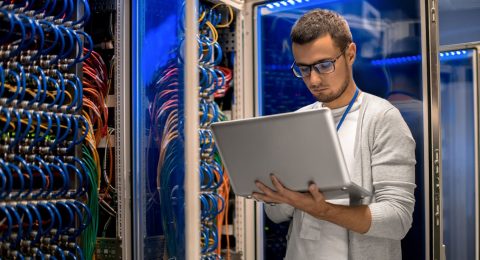 What Do You Learn in Empire's Cybersecurity Courses?
A background in cybersecurity offers many benefits. According to the Bureau of Labor Statistics, careers in information security are projected to grow by 28 percent between 2016 and 2026. This is much faster than the average job growth of 7 percent. And while the national median salary in this field is $95,510, ZipRecruiter states that experienced information security analysts in Santa Rosa can earn around $108,524 a year (higher than the average for network administrators in Sonoma County). Careers in cybersecurity are also known to be rewarding and intellectually stimulating. Check out three key takeaways from our cybersecurity classes below.
Technical Proficiency
Before you are can improve network security, you must first understand how networks function. As a result, Empire's cybersecurity classes begin with a technical foundation. After completing our cybersecurity courses, students are able to:
Set up, configure, and manage users on Microsoft Windows, Unix, and Linux operating systems
Understand the basics of Cisco routers, including setup and configuration of many LAN (Local Area Network) and WAN (Wide Area Network) technologies
Design and configure a PKI (Public Key Infrastructure)
Create and design network firewalls and intrusion detection systems
Critical Thinking
Once you have worked with a variety of different networks, you will begin to recognize what secure networks and strong authentication look like. At this time, you will start to identify network vulnerabilities and the types of attacks used against them. As you troubleshoot hardware and software and make necessary adjustments, your ability to think critically will deepen. Your capacity to think critically is what will transform you from an IT professional who works in a supporting role to one who leads the design of secure networks and systems.
Competence in Communication
Knowing how to do something and how to explain it are two separate skills. This is particularly true when you're speaking to someone who lacks technical knowledge, or someone whose brain works in a much different way than your own. Cybersecurity students bridge these communication gaps so they can effectively work with others towards solutions. After all, the ability to interact with users in a clear and professional manner is key to a successful career in IT.