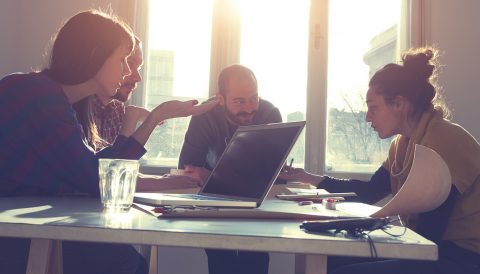 Benefits of getting your IT certification
Information technology certificates are growing in popularity as a path to break into or advance in the highly competitive California tech sector. With an impressive job outlook, lucrative salaries and a slew of added benefits; job seekers are continuing to migrate to the Bay Area in hopes of landing a position in IT. Certification in specialized areas like Linux, network security and Microsoft can help applicants stand out in a field of qualified candidates competing for the same job.
According to the Computing Technology Industry Association (ComTIA), the tech industry accounts for approximately 11.5 million jobs in the United States with over a million positions in California alone.
Jobs as web developers, systems engineers, network architects, database administrators now account for 9.1 percent of the Golden State workforce and continue to grow every year. In the next decade, the technology industry is set to grow by an estimated 13% with jobs in cloud computing, big data, and information security leading the way.
What certificates are available?
Information technology certificates are offered for a wide variety of career paths including network administrators, network consultants, network technicians, systems engineers, computer support specialists and more.
Depending on your interests, there are several tracts you can take to achieve your education goals. An associate degree in information technology may focus on computer hardware, software, programming and a wide variety of network technologies.
Look for a program with applied learning experiences where hands-on positions in the workforce can help you land your first job.
Following completion of the core degree classes, students go on to pick a field of concentration which allows them to prepare to take certification exams in Microsoft, Linux or Cybersecurity. Those students interested in studying computer system assembly with an emphasis in software installation, troubleshooting, techniques and solutions can pursue a certificate as an I.T. Support Specialist. This certificate is ideal for students seeking positions as computer consultants or computer technicians.
In Sonoma County, look for a college that offers industry certification preparation, which is required for some jobs, and ask about their exam pass rates.
Why would I need an information technology certificate?
Information technology programs combine classroom instruction, lab and real work experience with the goal of helping you land your first job for a career in computers. Students who complete the one to two-year programs will be ready to take industry level certifications, such as the CompTIA A+ Technician, MCP, MCSA, MCSE, CompTIA Security+ or LPIC Level 1, which can give them a huge advantage when applying for jobs. If you want to upgrade your skills with the latest Department of Defense approved cybersecurity certifications, investigate CompTIA's Cybersecurity Analyst and PenTest+ certifications.
The future looks bright
According to the California Employment Development Department, the information technology field is one of the fastest growing industries in the state which continues to thousands of new jobs each year. In Sonoma County, growth in jobs for web developers, systems software professionals and computer user support specialists are set to increase by 51, 33 and 18 percent respectively by 2024.
Five benefits to obtaining a professional certification
A certificate is a great way of getting an edge on your competition.
Provides the tools and background for quick growth.
A certification allows individuals to become specialized, enhancing knowledge outside your comfort zone. This knowledge can then be used in the workplace as well as cross-training and working as a mentor for others.
Pursuing a certificate, particularly if you are currently working in the tech industry which is constantly changing, positions you as a continuous learner and helps improve your chances for career advancement.
Graduates can often pursue positions that will offer higher pay as well as career advancement.