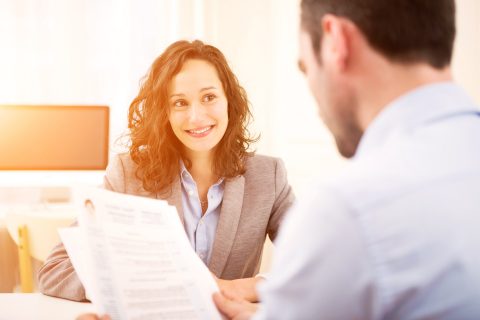 "I chose her because I think she will be the perfect fit for our department. I was very impressed with her, the interview went well, and I chose her over a seasoned MA so that says a lot for her! I think the deal breaker was the email she sent to say THANK YOU for meeting with her for the interview. She sold herself with that move!"
This recent email from an employer is an apt reminder of the power of following up after an interview with a simple thank you. Was this the entire reason a recent grad was hired over someone experienced? No. Was it helpful? Definitely, it clinched the interview! How do you know what will "sell" the employer on hiring you? It may be a firm handshake or your natural smile or the polished shoes. It could be the perfect answer to the difficult interview question. Getting the job in this tight job market may mean simply being in the right place at the right time – working your referral network (friends, family, Empire staff) for job leads and making the most of them. It could be taking a few minutes the day before to check out the company's website to prepare intelligent questions. Or making sure you have the correct address so that you're not late. Sometimes simple steps are neglected, leading to rejection. Don't let that happen to you.
Prepare. Plan. Be present. Persist. Good things will happen.
How can you sell YOURSELF?  Empire College graduates are prepared to do just that…and they are not going it alone. They have the guidance of our Career Services staff to make sure they don't neglect the simple steps. From providing interviewing advice, to job leads, to company insight through their solid connections with employers, Career Services has your back.