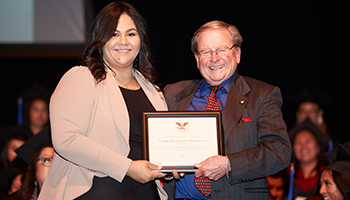 Congratulations to Empire College paralegal graduate Andrea Hernandez Dominguez, who has received national recognition from the White House for her volunteer service of more than 100 hours as a legal translator at the Sonoma County Small Claims Advisory Clinic. As the second-ever Empire College recipient of the President's Volunteer Service Award, she was recently presented a personalized certificate of achievement together with a congratulatory letter from the President of the United States.
"I feel very honored and blessed to have received this award; it really means a lot," Andrea said. "Volunteering in the Small Claims Advisory Clinic while a student really helped me understand what was being taught in the classroom."
A 2011 graduate of Nueva Vista High School and 2018 honors graduate of Empire College's Specialized Associate Degree – Paralegal program, Andrea volunteered her time two days a week for over a year as a translator while she pursued her paralegal degree. She is now employed as a paralegal with the Law Offices of Richard J. Meechan.
Since its opening at the Empire College campus in 2005, the Small Claims Advisory Clinic has assisted nearly 25,000 members of the public, providing advice on small claims law suits. A high percentage of the public which comes to Empire College for legal advice in small claims matters speak Spanish. In such cases, a translator does not merely pass information between individuals who speak different languages. In the legal context, a translator must understand the legal issues and nuances as there often is not a direct translation for legal concepts. Further, the translator controls the conversation between the advising attorney or law student and the non-English speaker who is seeking assistance. This is a vital role.
"The unique circumstances of the Small Claims Clinic allowed Andrea to learn the skills necessary in advising clients, and Andrea recognized the value of that opportunity and committed herself to developing those skills," says Murray Cockerill, Assistant Dean and Clinic Director. "This clinic which helps so many, would have had great difficulty in functioning over the last two years were it not for Andrea. Her commitment to professionalism and community makes her a valuable addition to the legal community and very deserving of this prestigious award."
Empire College has been named to the President's Higher Education Community Service Honor Roll with Distinction for several years, a national award recognizing colleges that inspire lifelong civic engagement among their students and achieve meaningful, measurable outcomes in the communities they serve. In 2015, the Empire College Board of Directors was recognized by the Sonoma County Board of Supervisors with a Jefferson Award for Public Service.
"Empire College is proud to be a community resource and educational asset," says President Roy Hurd. "We hope that Andrea's example will guide others into the importance of community service."