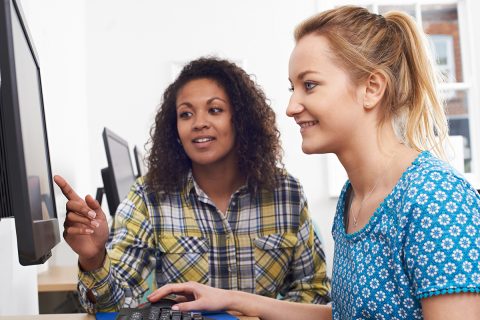 America Needs a Financial Education. Empire Students Take Action.
True or False: Checking my credit score hurts my credit. If you're not sure, you are in good company. The average American has over $5,500 in credit card debt, half have less than $10,000 saved for retirement, and not quite half of student loan borrowers are behind in their payments. All of this data suggests that America is bad with money. As a country, we may have failed to provide a thorough financial education to our citizens, but Empire College is working to fix that. Empire's faculty and many of its accounting students are volunteering with local organizations to increase the financial literacy of their community.
The Role of Accountants & Accounting Students
The Empire College Accounting program knows that accountants have a special role and responsibility in community financial education. The AICPA (American Institute of Certified Public Accountants) has even started an online program called 360 Degrees of Financial Literacy to help the average American better manage their money. Business faculty and students in institutions of higher education around the country are also responding. Students at Northeastern University volunteer to teach financial literacy to local students, and finance students at Manhattan College show teenagers the values of a business major. Empire College students are no different! They, too, are joining this national effort—led by accountants and accounting students—to increase the financial literacy of the nation.
Empire Students Become Teachers
Empire faculty and accounting students volunteer as part of the local program Bite of Reality, which provides financial literacy education to local high school students. Hosted by Redwood Credit Union and currently, in its fifth year, the program has provided just over 100 financial literacy workshops. Bite of Reality participants role-plays real-world financial scenarios: buying a house, budgeting for child care, paying off credit card debt, and balancing necessities like food and transportation with entertainment and leisure expenses. Volunteers, like Empire accounting students, help the teenagers determine how to manage their fictional budgets. The hope is this education will better prepare the students for financial success as adults, and Empire students have supported this goal with volunteer hours and with fundraising efforts.
After participating in Bite of Reality, the high school students just might be able to answer the question above. Did you know the right answer? As any Empire accounting student could tell you, it is False. According to Equifax, checking your own credit score is known as a soft inquiry, which does not impact your score. It's exactly this kind of foundational money management knowledge that Empire accounting students are sharing with their community.