Brenda, Areli, and Daniela were hired during 2018 after successfully passing a 3-member panel interview. "We don't require experience," explains Stephanie Cruz, Senior Operations Manager at the Lombardi Campus. "It is just a 'thing' we look for in our job candidates." When asked to elaborate on the 'thing,' Stephanie's description encompassed aspects of customer service and patient care. That, along with a 5-page competency checkoff that new hires must successfully complete within their first 6 to 8 weeks on the job.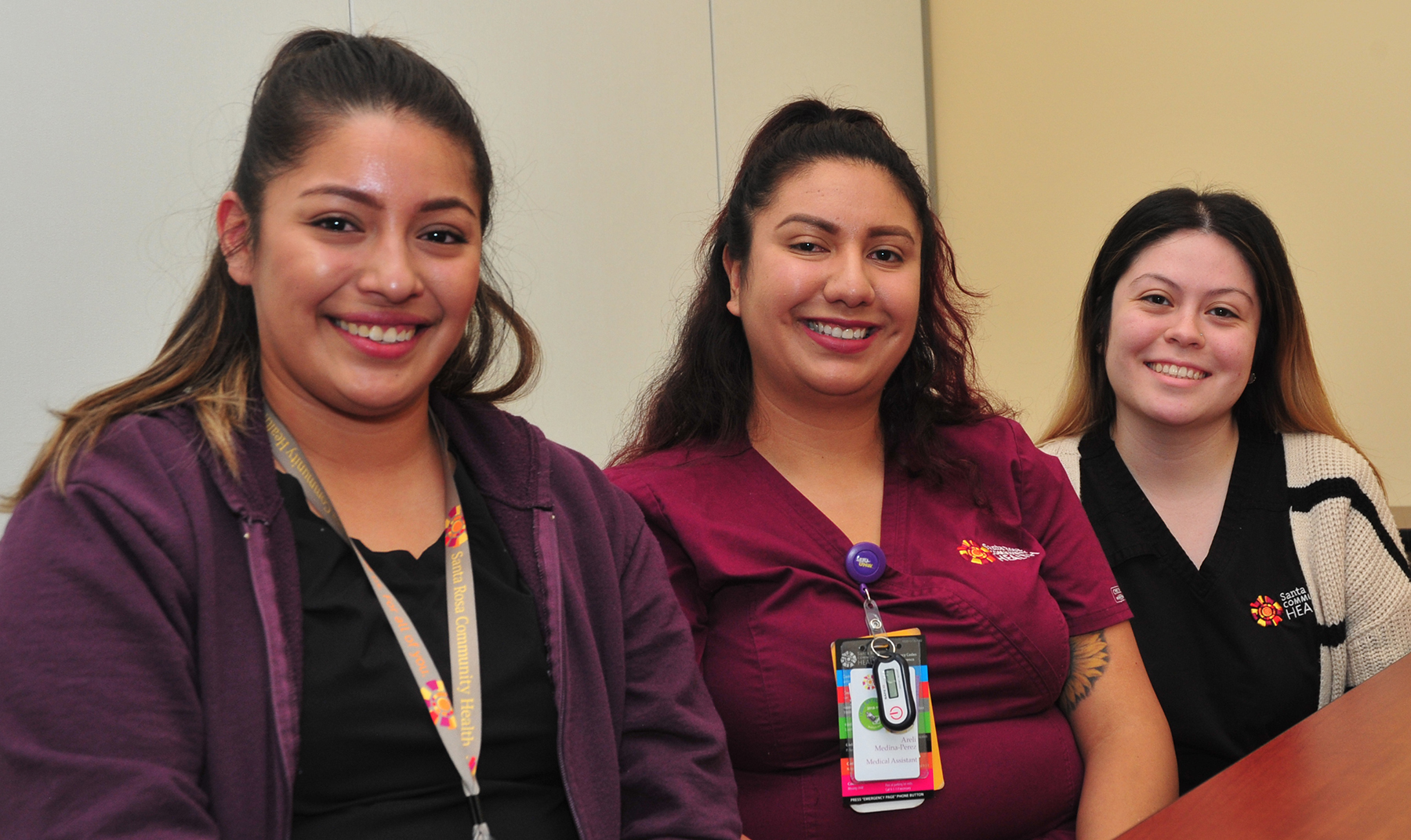 Brenda Beltran
Areli Medina-Perez
Daniela Vargas
Medical Assistants
Santa Rosa Community Health
Brenda's Program: Specialized Associate Degree – Medical Assistant – Phlebotomy  (June 2018 graduate)
Areli & Daniela's Program: Clinical Medical Assistant   (February 2018 and October 2017 grads) 
Stephanie is a good example of the career opportunities that exist for medical assistants. She started with Santa Rosa Community Health 10 years ago as a medical assistant and was promoted to supervisor and then manager. After 18 months on the job, the career ladder at Santa Rosa Community Health gives medical assistants the option of working in a variety of areas from health education to OB/GYN. And when MA's become certified, their pay is adjusted accordingly.
All three of the Empire graduates completed externships, although they were not at Santa Rosa Community Health. "Empire's EKG class helped me a lot since I did my externship at Fountaingrove Cardiology," says Areli. In addition to her externship in pediatrics, Brenda got additional hands-on skills practice through volunteering. "Shannon was always there to help me out," she says. "When I was hired here and asked to do an injection, I felt ready. And on my first day on the job, I was shadowing a lead and recognized all of the instruments."  
Daniela, who did her externship at Kaiser Permanente, sums it up saying, "We came in knowing a lot of the basics. We use all of our skills."
Each of these graduates came to Empire College via a different path, but with the same career goal. Brenda, whose sister also attended Empire, was a caregiver. Through that experience, she determined that she had a gift. "I really appreciated the culture and stories my patients were sharing with me. With my gift of being bilingual, everywhere I went I translated for people."
Areli had worked as a waitress and knew she wanted a career in the medical field. She says she changed her major many times at Santa Rosa Junior College, and one day she decided it was time to get her foot in the door. She received a scholarship to Empire College and enrolled. Becoming an RN is still her ultimate goal, and she is taking one class at a time toward achieving it.
Daniela, whose background was in retail, has a story similar to Areli's. She says she was taking a bunch of classes at the JC and was tired of not getting anywhere. "My sister, Jessica Gonzalez, went to Empire College and is a medical assistant as well," says Daniela.
Regarding advice for current Empire College students, these words of wisdom were shared:

Brenda: Don't be afraid to ask questions, and it is okay to ask it more than once.
Areli: Focus more on the clinical part of the program.
Daniela: Be open to learning the basics and even more so when you go out on the job.
Finally, when asked about Empire instructors who made an impact, the following were their responses:
Daniela: Melissa had the greatest impact on me.
Areli: Alyson Brisco and Nancy Stuart are awesome.
Brenda: During the time that I was attending Empire, my mother-in-law passed away from cancer.  It was a hard time, and I broke down crying in Carl Oeschger's class. He asked me what was going on. He would email me and told me he would be there for me, and he was there on stage to shake my hand when I graduated. I will always appreciate everything he did for me.  
 
More Graduate Testimonials: