Before enrolling at Empire College, Dillon was a firefighter. However, because he is a single dad who had full custody of a baby, he needed to train for a different career, fast. That is why he went to Sonoma Works and enrolled in one of Empire's shorter, evening programs that included an externship.
That externship was in Urgent Care at Sutter Health and turned out to be a perfect fit for him, resulting in him being offered his job as a medical assistant in the float pool.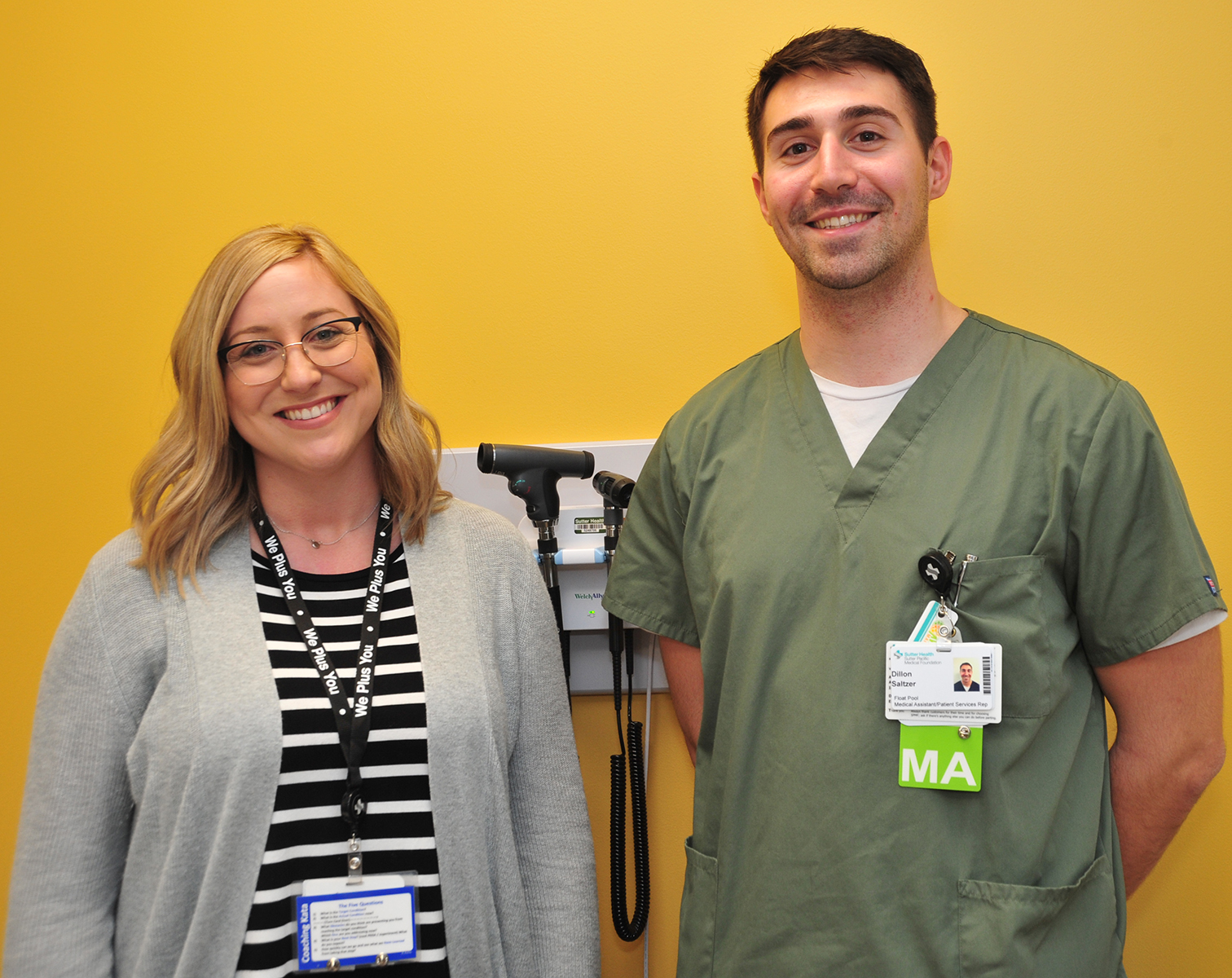 Dillon Saltzer, Medical Assistant
Pictured with Michele Wilson, Float Pool Coordinator (on left)
Sutter Pacific Medical Foundation
Program: Clinical Medical Assistant
June 2018 graduate
Dillon and his supervisor, Michele Wilson, shared the following feedback about Dillon's transition from college to the Sutter workplace.
"Last year we went from 8 to 22 medical assistants in the float pool. I utilize our recent hires for recommendations for job candidates. We have had nothing but good experiences with Empire College externs and graduates," said Michele, who recounted a list of recent Empire hires.
"I am loving where I am working," says Dillon. "Everything is going well. I am an advocate for being able to apply what I do at work in the rest of my life. I even keep a medic bag in my car! I love helping people, and I feel that healthcare is a great field in which I can keep moving up."
Dillon stated that he had no difficulty making the transition from school to work. He credits his instructor Nancy Stuart with "solidifying the Empire experience" for him. Dillon felt comfortable with his injection, phlebotomy, and urinalysis skills. He learned how Sutter handles things administratively on the job.
"Sutter gives people opportunities when they show initiative," Michele said. "Dillon is now a safety ambassador, and he will also be involved in the roll-out of an immersion program for new hires and existing MAs in the next couple of months."
In keeping with his observation that healthcare is a field in which one can keep moving up, Dillon is currently going to the JC to complete his general education in preparation to pursue his next goal of becoming a physician's assistant.
More Graduate Testimonials: